2017 - 2022
As Creative Director at
The On Being Project
, I led the vision of how we present our media project and public initiatives to the world. I collaborated and led our art direction approach with both our content team and external artists to ensure our brand's visual expression was consistent and cohesive across all owned platforms. I was also responsible for identifying and leading new areas for growth in design and video within the Project. I championed our art department through the development, planning, and implementation of all creative visual and online engagement work, collaborating closely with CEO and Host, Krista Tippett. Below is a collection of my work spanning five years, annotated with responsibilities and project descriptions in more detail.
When I joined the project, the brand's visual expression leaned on a beautiful logo from Pentagram and occasional stock photography. It was an exciting challenge – to give a popular show a visual voice as strong as it's radio presence. Over the years, we collaborated with hundreds of photographers and illustrators to create a visual tapestry that better reflected the myriad of voices and lived experiences featured on the show. I was personally responsible for building the Art Department and championing our work and collaborations across my five years at On Being.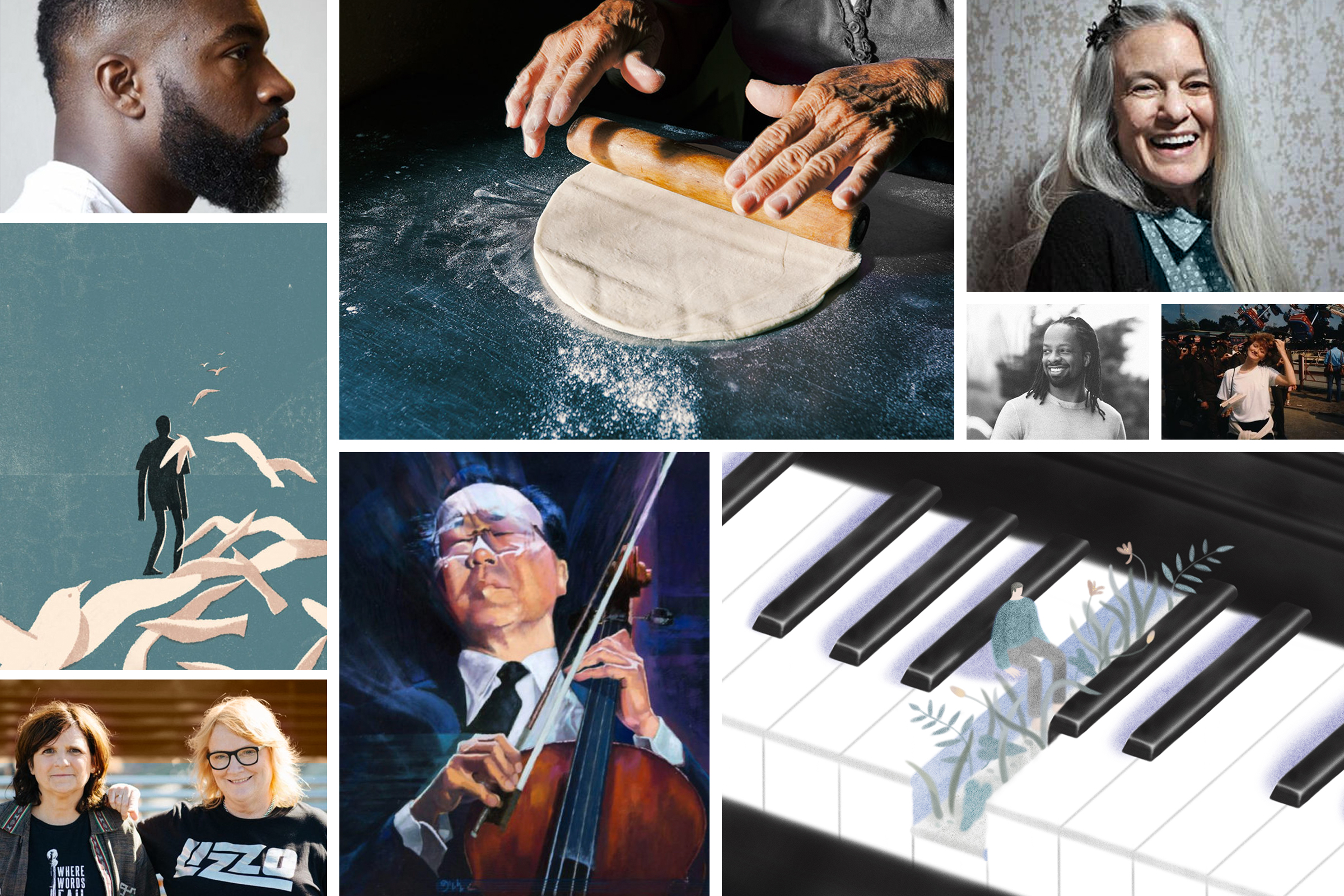 In 2018, we partnered with Upstatement, to completely reimagine our website – lovingly referred to as our 'digital home'. Over the course of a year, we designed and built a hospitable, welcoming space. We invited our community to explore 15 years of audio and written content, creating exciting pathways for discovery. My responsibilities included overseeing the digital design and partnering collaboratively with the agency, our CEO and internal editorial team to make sure all needs and desires were addressed in the front and back-end of the build. At the end of the project we were told this was the 'most complex editorial Wordpress back-end' that Upstatement had ever built, which we took as a compliment. Over the next four years we continued to work with Common Media to make enchancements to page templates and craft new ones – most notably our 'Experience Poetry' page. In 2018, the website was an Webby honoree as a Cultural/Blog, and in 2019 won the 'People's Voice Winner' for the same category.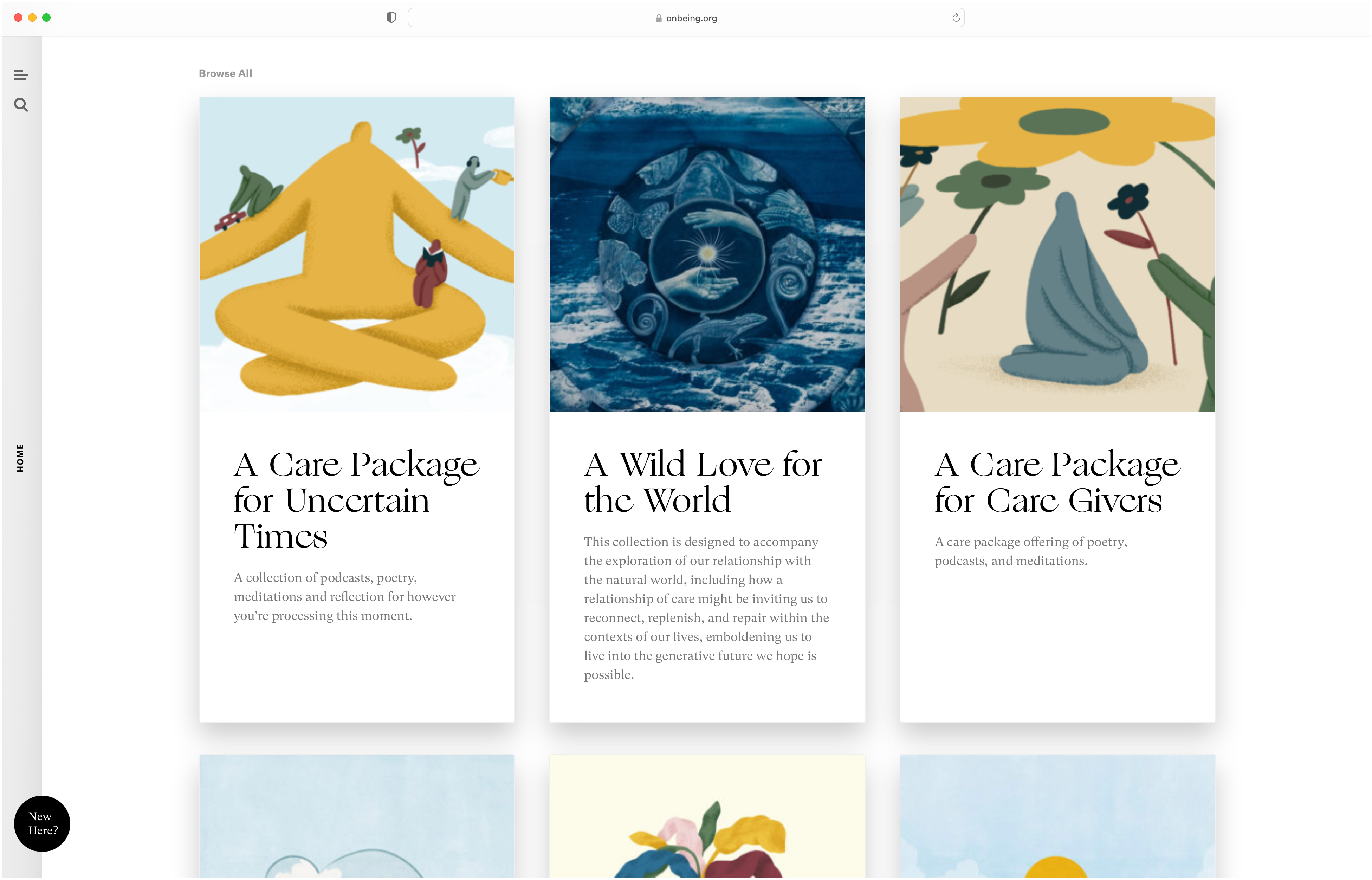 I was personally responsible for building the organization's video discipline, which came to life in a few different forms. In 2019 we recieved a generous grant from the Mellon Foundation to create a series of Poetry Films that live on our website and newly formed YouTube channel. I was responsible for the initial creative idea and producing all of the pieces in partnership with the artists. The films were positively recieved by our community and continue to circulate to this day, recieving coverage from Communication Arts and used across the globe as grounding exercises. In 2022, we partnered with Maria Popova of The Marginalian (formerly Brain Pickings) to create 9 films for her annual Universe in Verse celebration of wonder, science and beauty. Below are a few of my favorite commissions.
From 2018 – 2022, we organically grew our community of Instagram followers from 46k to 250k+ through a series of unique community-building and engagement techniques. I was responsible for leading a team in developing editorial content and story ideas, working with photographers and illustrators to bring them to life, editing video, and moderating and engaging with community members directly.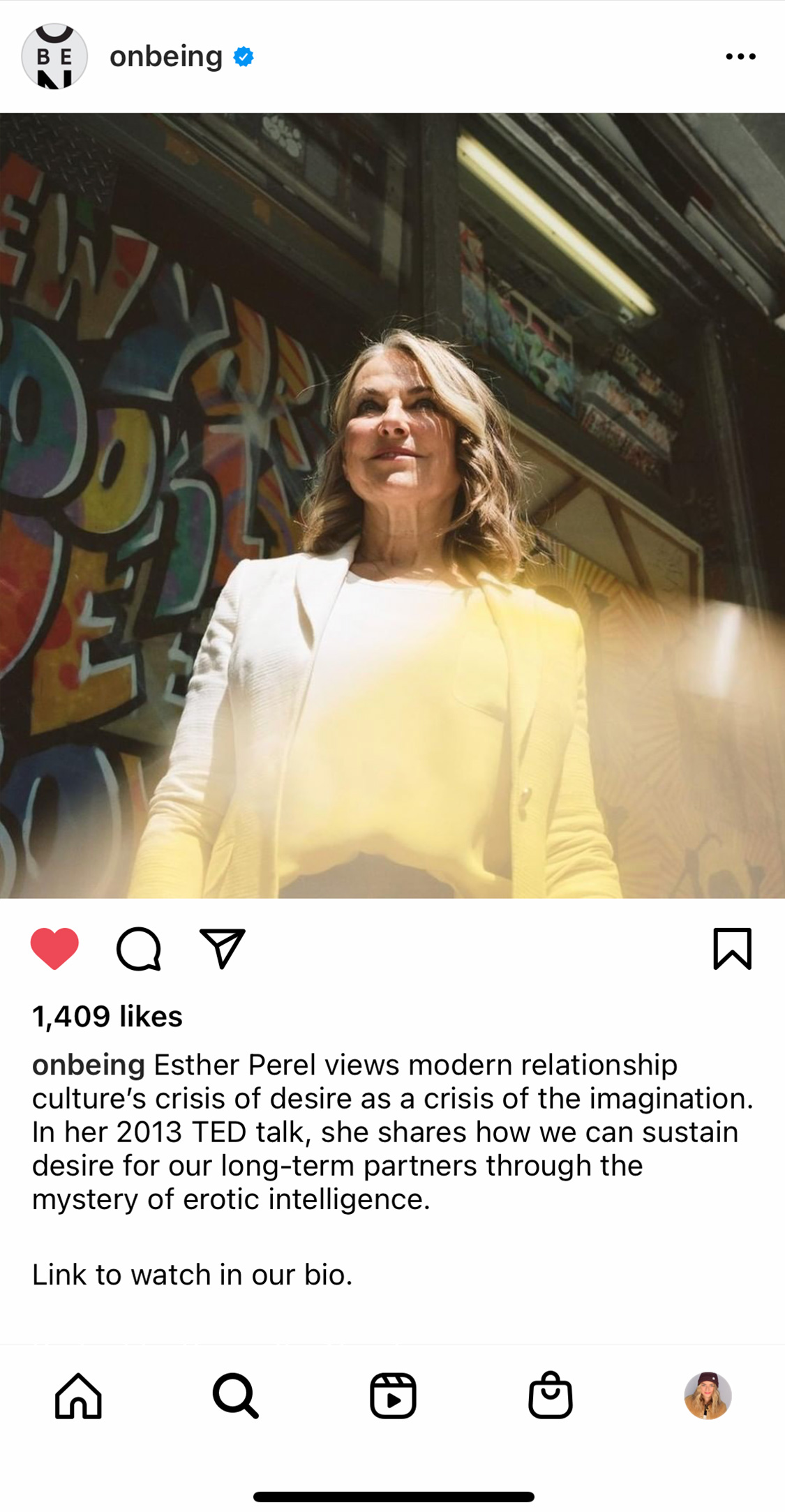 In 2020, Krista embarked upon developing the On Being Wisdom App – a companionable tool for the art of living, for tending to the interplay between inner life and your presence in the world. I designed all of the artwork for the first four courses and played a role in the early shaping of the app's form and overall look and feel.
In 2022, I created On Being's first official Visual Guidelines document. The 26-page guide outlined and codified all that had been living in my head for the previous five years.